Culture
---
Clinical lead Katie Miller has a passion for all things Human-Factors. A bit of a 'Civility Saves Lives' fanatic; psychological safety, inclusion, equity, team, honesty and vulnerability at work are all values that are lived out on a daily basis at Merthyr Vets4Pets. We understand that everyone brings their own innate value to the team and we make sure that we are always listening and contributing to ongoing team and personal growth.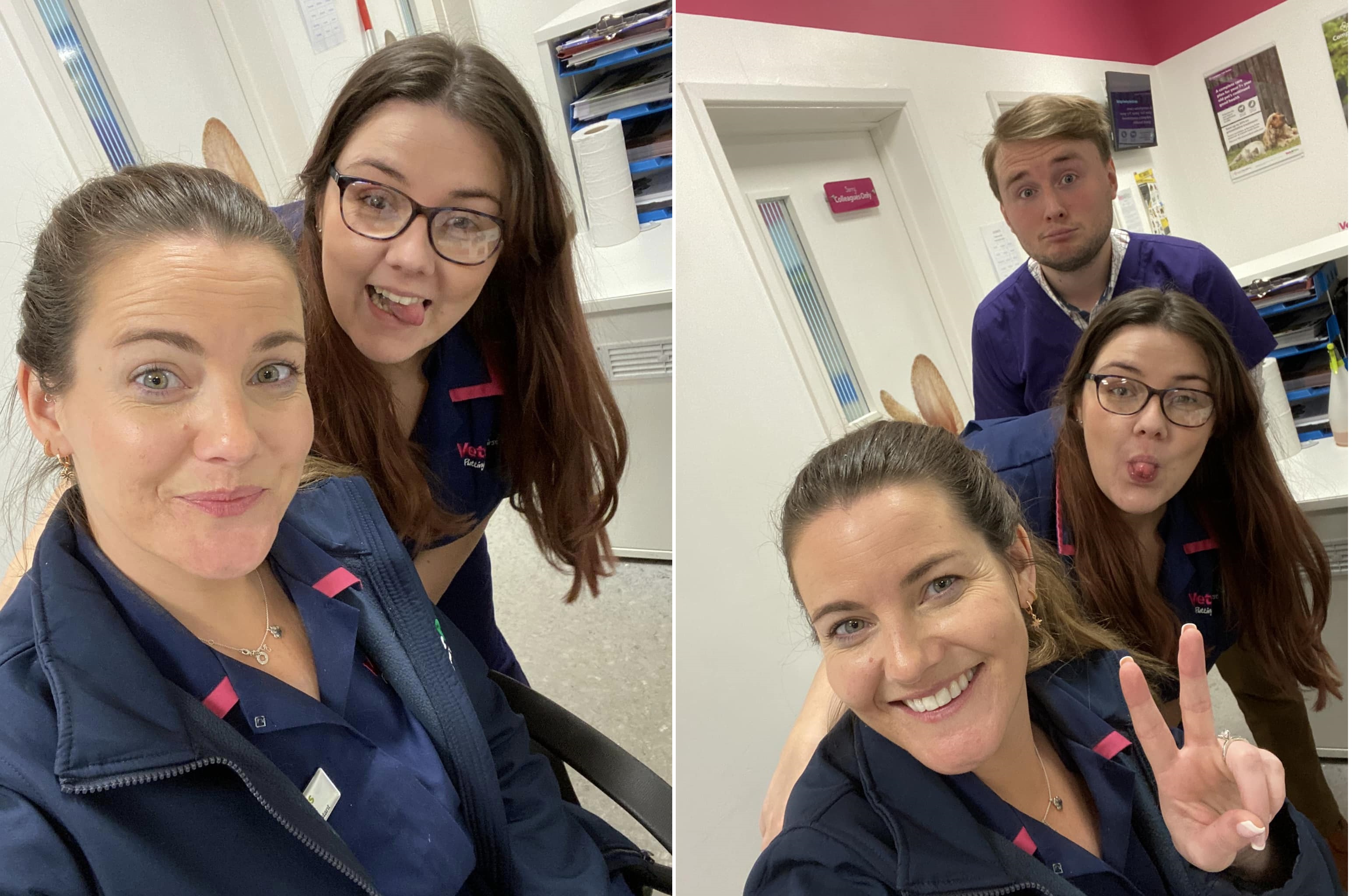 Our Purpose
At Merthyr Vets4Pets we connect deeply with the ethos of the wider group - to create a better world for pets and the people who love them. We engage with and value our colleagues as whole people, not simply as employees. Our colleagues represent a very broad spectrum and we welcome each individual and their uniqueness to our team. We celebrate that we are all different, uniquely talented and are united by our love of pets.

We have a vision to be the best pet care business in the world, we do this by putting our values into practice every day:
Putting pets first
Helping pet owners be their best
Being experts in our field
Being proud of what we do together
Leading the way

To bring to life our values, our behaviours are what you will see, feel and experience when you meet a 'Pets' colleague:
Courageous
Honest
Respectful
Inspiring
Supportive

We are committed to creating a better world for pets and the people who love them, through our 2030 Social Purpose Pledge which incorporates the three pillars of Pets, People and Planet.
---
Psychological safety
Here we know that good listening builds trust, and we know the importance of people feeling heard. We try hard to be honest, making people aware if we have been upset by something or have taken offence, we don't let things fester. We try to remember that we are only human and sometimes the rest of life spills into our work life, and we are all learning to be curious and respond with compassion. Sometimes simply offering some little comforts can help – a cup of tea goes a long way
---
Diversity, equality and inclusion
Our vision is that everyone is welcome and feels part of the team where:
- everyone can connect to our purpose and feel supported to be themselves
- we encourage and support inclusive pet ownership

Commitments:
• To recognise characteristics that truly reflect diverse representation including different backgrounds, interests, appearances, personalities and working styles, as well as sex, gender and gender reassignment, sexuality, race, ethnicity, age, disability, marital status, and religious beliefs.
• Promote a culture of kindness, trust and respect.
• Provide an inclusive experience for our clients now and those we look to welcome in the future, recognising and respecting different needs, expectations and influences.
• Inspire and engage our colleagues, customers and clients through inclusive internal and external facing communications that reflect diversity.
• Help shape best practice on diversity and inclusion by collaborating with other retailers and vet professionals to exchange knowledge and experience.
• Partner with external organisations that support our nationally recognised commitments.

Commitments to our existing and future colleagues:
• We value all colleagues and candidates for their unique talents, perspectives, and contribution.
• We aim to break down barriers so that everyone has the opportunity to join and participate in our business.
• We won't tolerate unlawful discrimination, bullying or harassment in any form.
• We'll make reasonable adjustments to support colleagues with a disability to carry out their role.
• We'll work with colleagues with caring responsibilities to try and find working patterns and arrangements that help them to carry out their role.
• We'll do our best to protect colleagues and candidates from any negative treatment related to differences broader than legally protected characteristics.
• We'll work towards engaging with suppliers who support us by having a diverse and inclusive culture.
---
Team building
The kettle is rarely cold!
We love a good food or garden (or both!) conversation.
Laughing encouraged. Fun too.
Social anyone? Yes please!
Walk in the sunshine anyone?
How are you doing? Really?