by Olly King, Founder
Meraki HQ, Totnes, UK
Created 339 days ago
Clinical Extra-Mural Studies Top Tips: Part 1 - Planning Your Veterinary Placements
Clinical extra-mural studies (C-EMS) offers veterinary students exciting "real world" experiential learning and an insight into what it feels like to be part of a veterinary team. Time spent gaining experience in both clinical and non-clinical work environments re-enforces the clinical and hidden curriculum of non-clinical day 1 competencies needed to thrive as a professional.
C-EMS is intended to be a fulfilling and fun window into your prospective veterinary career. It is also a great extended job interview to ensure you secure the right first role and remains one of the best ways to network and forge professional relationships with prospective colleagues. The AVS 2018 EMS Survey however, in highlighting widely variable C-EMS experiences, with students reporting feeling unvalued (mean 6.29/10), shows a need for guidance to help mitigate the risk of enduring a mediocre placement.
So, to help increase the likelihood of a more positive C-EMS experience we wrote this three-part guide to help:
Support undergraduates maximise the quality of your learning experiences and
Soften any apprehension amongst undergraduates currently planning placements.
Part 1 focus is on PLANNING, part 2 on things to do DURING and part 3 on things to do AFTER your C-EMS placements. We hope these positive actions encourage and help you to get the most out of your learning opportunities to kick start your career and boost your new graduate confidence.
A need to find the best placements

C-EMS continues to rely on the traditional goodwill of vets actively contributing to the learning and development of tomorrows graduates. Amidst many businesses operating under an unprecedented HR-shortfall of vets and nurses, workplace pressures exist that risk negatively impacting this goodwill and placement quality.
Also, the RCVS requirement of the number of clinical weeks EMS that need to be completed is decreasing from 26 to 20 weeks from 2024. With this comes an even greater need to ensure you are securing the best learning placements to support your undergraduate studies to best prepare yourself for veterinary life.
The good news is that, according to the SPVS 2021 EMS Survey, 76% of workplaces still love to help students and want to provide C-EMS. Your mission in seeking the right learning experiences is to get good at sniffing out these 76% of workplaces. Consider this 10 point check list on actions that workplaces motivated to provide a high quality C-EMS experience are more likely to do:
Have a workplace profile on Meraki and showcase their C-EMS opportunities
Be willing to discuss your objectives in a pre-placement conversation
Assign you a designated 1:1 supervisor, 'buddy' or mentor
Provide a day one induction and informal check-ins during your placement
Offer a personalised learning experience according to your knowledge and skills
Integrate C-EMS teachings into their daily workflows
Enjoy knowledge sharing to teach with enthusiasm and patience
Share teaching responsibility across the whole team
Value building bonds with students by integrating you to feel part of the team
Provide personal

and

professional developmental feedback on placement completion
Reflect on these points alongside the RCVS guidance to practitioner's providing C-EMS placements here and any guidance your university provides to workplaces supporting their students.
Part 1: PLANNING Your C-EMS
This stage is all about being organised, doing your due diligence and quality assurance to find a C-EMS placement  offering a positive learning experience. Once satisfied you have found a gem of a workplace, introduce yourself to start building a rapport as you explore if the experience on offer is suitable for your needs. Here are some top tips.
Feel part of the profession from day 1 of vet school with your free Meraki career profile. Meraki provides a growing veterinary employer directory to connect workplaces looking to stand out to students and professionals searching for EMS placements or researching their next career move.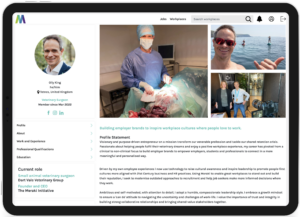 Image: Meraki career profiles are a great way to feel part of the profession from day 1 in your veterinary training.
Career profiles are your private, personal networking tool to portray who you are and share your experiences ready to connect and start building relationships with workplaces that share your values. Find these employers using search filters to discover workplaces with profiles that show authentic team and cultural insights to learn what they are all about. In checking out their C-EMS and job opportunities Meraki helps you make more informed decisions to better navigate your veterinary training and career.
Keep your career profile updated throughout your veterinary studies and career. Your profile is your digital CV to privately share to connect with individual Meraki workplaces when you 'Express interest' in them. Alternatively you can anonymously 'Follow' a workplace without sharing your career profile. Either way, after you 'Follow' or 'Express interest', this saves the workplace to your Network folder within your dashboard, like a 'favourite', ready to receive their news and job notifications from employers you want to hear from.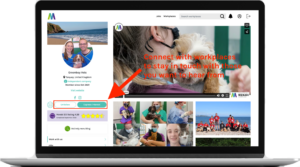 Image: Meraki workplace profiles share team and cultual insights so that you can find the right workplace for you.
Save this link to Meraki's map of workplaces as a resource to help you better plan your C-EMS.
2. Be proactive and plan early
The more organised you are, the more likely you will be to get your first pick placement, your preferred dates and potentially a longer placement. Booking placements a year in advance is not uncommon, particularly with increasing student population size and competition for the best placements. Rushed, last minute a week here, a week there C-EMS bookings at workplaces you know little about is a high risk strategy for a lottery placement experience.
3. Finding better matched placements
Use Meraki's veterinary employer directory and the 'Clinical student placements' search filter to find workplaces actively wanting to engage and have students gain experience with them.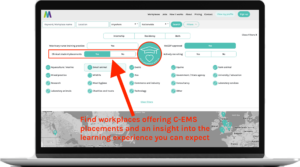 Image: Meraki workplace search filters help you research and find the right learning placements for you.
Meraki provides a growing centralised EMS database resource of clinical and non-clinical veterinary employers advertising their C-EMS opportunities to help manage expectations and make arranging placements easier. Find out what learning experience is offered, what is expected of you and whether accommodation, a dedicated placement supervisor and a pre-placement phone call is provided.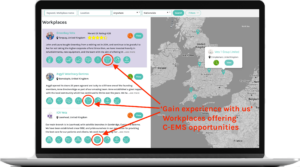 Image: View Meraki workplace profiles to learn what C-EMS learning experiences are offered.

For example, click here to view EMS opportunities at Vets1 Group, Crimplesham.

Other ways to find out about C-EMS opportunities include contacting workplaces conveniently located near university or your family home, speaking to your peers and EMS tutors, ask farmers where you completed animal husbandry EMS for recommendations and searching university EMS databases. It is also a great opportunity to re-connect with practices you spent time with pre-vet school. Various Facebook social media groups exist to help students find placements, check them out here: VetBeds, VetWings and Veterinary Voices EMS Opportunities.
We have also created our own Facebook group: Meraki Veterinary EMS Opportunities, to facilitate better matched placements and better two-way management of expectations for a higher quality learning experience. Find a workplace passionate about teaching, with a positive culture, strong team ethos and where you will be made to feel welcome, where a bigger, shinier workplace is not necessarily better. A small friendly practice with a team that communicate well and motivated to offer you a personalised, memorable learning experience is definitely the way to go.
4. Get curious about diverse veterinary careers
C-EMS is a fantastic way to explore the variety of veterinary career paths open to you following graduation. With around 20% of veterinarians working outside of clinical practice, don't forget to consider non-clinical placements. Reach out to the big pharmas, APHA/government, laboratory animal veterinary association, meat hygiene service or even enquire about research project opportunities at your own vet school. The professional networking platform LinkedIn can be a great way to connect with veterinary professionals, working mostly outside of clinical practice.
5. Finding the right balance of different C-EMS experiences
To ensure graduates are prepared for their first role within any type of clinical practice the RCVS states 70% of clinical teaching is to be delivered in the 'general practice' context. So it would sensible to use this as a guide and mirror a similar percentage mix in your C-EMS.
Ensure you also see enough practice of each animal type to support your academic teachings. I would encourage being open minded as to your career intentions to ensure you to take positive, curious and enthusiastic attitude to each placement. You never know, an amazing placement may unlock an interest or fascination in a career path you had previously overlooked.
"Share an insight into who you are and explain your motivation for seeing practice with this particular workplace."
6. Initial workplace communication outreach
Having found and researched a C-EMS opportunity you like the look of, phone the practice to find out more. Chances are they will simply ask you to email in your request, perhaps sending you a templated booking form to complete. But gently push back. Politely ask if there is anyone you can speak to involved in overseeing C-EMS to learn more about what is offered.
When you do email, always personalise your communication. Many practices will be inundated with C-EMS requests. Put yourself in the shoes of the time poor practice manager, head nurse or whoever oversees arranging student placements. What makes you different and your application stand out to capture their attention? Introduce yourself, explain your motivation for wanting to see practice with this particular workplace and be sure to keep communication concise.
Creating a career profile on Meraki is a simple and easy way to market yourself. If the workplace has a Meraki profile to share your Meraki career profile, great!, connect away using Meraki's 'Express interest' functionality. If they do not, you can still share a link to your career profile to help the workplace learn more about you. Include your areas of interest and specific clinical and non-clinical skills that you would like to develop, as well as sharing insights into relevant student placements completed including your learning outcomes.
Specify your ideal placement start date and placement length so the workplace can check placement availability. Sharing multiple dates can be helpful and may be necessary the more short notice you give. Be warned, slow replies and protracted, long email chains can ensue – hence the planning in advance and Meraki to help speed up the process! Check whether free accommodation is offered or if the workplace has an arrangement with a local third-party to offer an affordable option.
Free templated forms are provided by the AVS to facilitate this information sharing. These include C-EMS induction, self-assessment skills matrix and placement objectives forms. Your university may also have templated forms to help manage the expectations of both parties.
Include your phone number and a sign off welcoming the opportunity to speak to the person overseeing students on placement. Share a couple of days and times when you are available to have this conversation. If you have not had a response after a week, follow up with a phone call to ensure the email has been received and passed on to the right person.
"Build a positive initial rapport. Be enthusiastic. Introduce yourself, sharing your skills and interests, while trying to get a feel for your supervisor and the ethos of their workplace."
7. Managing expectations – the pre-placement video or phone call
A workplace offering a pre-placement phone call is a strong sign that they are motivated to support your training. This is a great opportunity to seek the clarity and assurances on what you can expect.
Eager to see if you are a good match for them, the more popular workplaces may use this as a way to screen students. C-EMS offers a strategic graduate recruitment touchpoint for employers. With increasing demand for placements, expect the more sought-after workplaces to be selective and more motivated to take students who they feel have the greatest potential to be a prospective hire. So make sure you sell yourself!
Speaking with the supervisor, mentor or 'buddy' who would be involved in your hands-on experience, is preferable to the office-based Practice Manager. However, if this is not possible, being able to speak with any human-being offers a step up from simply relying on impersonalised, transactional email communication.
Be sure you build a strong initial rapport. Be enthusiastic. Introduce yourself positively, sharing your skills and interests, while trying to get a feel for your supervisor and the ethos of their workplace. Practices with a more casual, informal friendly environment are preferred by students, so try and get a sense of this from your conversation. Be polite while seeking the clarity you need to determine if this particular placement is going to be suitable for you.
For example, their answers to 'what kind of induction is provided?', 'what procedures do students usually do?', 'will the whole team know I am coming?' and 'do you have many new graduates working with you?' may give you an impression into how organised the practice is and their enthusiasm to teach.
Be very clear on your intention for wanting to see practice with them. Do not make any assumptions because C-EMS is not well defined. Each workplace will likely have a different perspective on your purpose and intended outcomes. By having and sharing your clear ideas on the objectives you want to work on to support your day 1 competency training, everyone's expectations will be better managed.
Share also an insight into where you are at in your learning. Vet schools stage the teaching of the academic curriculum differently, making each student's starting point different. The workplace can then be transparent to what extent they are able to flexibly personalise your learning experience, further helping you to reflect on placement suitability.
Find out and discuss any 'rules' relating to conduct in the practice, the interaction with practice personnel and clients and clothing and equipment requirements. Also, and perhaps more for equine and mixed/farm animal placements, find out if your own transport is required to complete a placement. Flag any health and safety issues, for example allergies or health conditions the workplace need to be aware of.
At the end of the phone call, ask for their email address and send a follow up email to thank them for their time. Always summarise in the email your communication, any arrangements made and next steps. People forget things and a summary email is a clean way to bring loose ends together, which in 8 months time, when you are about to see practice with them, you will be grateful you did this.
Of course, remember to also check with your EMS Office that they are happy for you to undertake C-EMS at this particular workplace. Integrate this approval at an appropriate stage in your communication with the workplace to avoid wasting yours and anybody else's time.
8. Confirm placement arrangements
It is a good idea to touch base with the workplace the week before your arranged placement to avoid last minute surprises, especially for those arranged many months prior. That summary email you sent when initially arranging the placement is now the perfect reminder of what was discussed and agreed.
Re-assure yourself they know you are coming, have not overbooked themselves with too many students and that your supervisor is going to be there. If accommodation is provided, triple check access if you are arriving the day before as well as what bedding and towels are provided.
Confirm your arrival time on day 1, an approximate finish time and who to report to. If it is one of your first placements and you are feeling anxious, this is normal. Help yourself and ask for an overview of what you can expect your first day to ease your nerves. Don't forget to find out if there is anywhere (or any time!) to get lunch or if it is better for you to bring food with you to ensure a smooth first day.
9. Final reflection – setting your placement objectives
Review your learning goals and priorities. Time spent on placement will be limited and will pass quickly so review your skills lists and be clear what you are wanting to achieve from your placement. It can be helpful to rank your objectives according to priority, to further focus your attention, and take this in with you to discuss with your supervisor at your induction.
Summary
C-EMS provides a rewarding opportunity for experiential learning that re-enforces your undergraduate training and makes you to feel part of the profession. It is your responsibility, however, to find and arrange placements that are suitable for you and your interests. The earlier you start planning the more likely you are to find the best learning placements. Communicate your placement goals with your supervisor in advance to ensure they align with the learning opportunity available to help everyone's expectations be more effectively managed.
Click here to read Part 2 of our ultimate C-EMS guide – 'Things to do During Your Placement'.
Your EMS insights to check out
GUVMA President Shares His C-EMS Experiences
Centaur Society President Shares Her C-EMS Experiences

Got an EMS experience you would like to share in our next newsletter? Get in touch with olly@merakiinitiative.com