---
Registered Veterinary Nurse
Closing date 01-08-2023
RVN required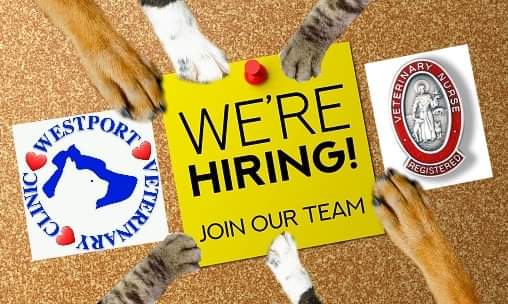 Linlithgow, United Kingdom
Veterinary nurse
British Pound Sterling
24,000 - 33,000 pa
Small animal
Permanent
---
The role
Location
Unit 42 Mill Road Industrial Estate, Linlithgow, EH49 7SF, United Kingdom
How the role has come about
Expansion of all sites
Job description
Job Description
Veterinary Nurse
(Registered or Student)

It must be remembered that veterinary nurses (whether registered or student) must, at all times, work within the guideline of the Veterinary Surgeons Act 1966 and The RCVS Code of Conduct.

General description of veterinary nursing role
As a veterinary nurse, you'll be involved in hands-on nursing care of a range of animals, providing both emergency and routine healthcare. You'll work alongside the whole veterinary team to promote animal health and welfare through responsible ownership and play a key role in the education of pet owners. The practice cannot be successful without competent & caring veterinary nurses.
You will be expected to be professional, calm and courteous at all times, maintaining a neat & tidy appearance. A high standard of behaviour and appearance is required at all times to ensure client confidence & the welfare of patients under our care.

Your tasks will include:
• Reception duties (please see relevant job description)
• Schedule 3 tasks, as permitted by RCVS.
• Confidently handle & restrain patients.
• Admitting & discharging surgical or medical in-patients.
• Preparation of in-patients, catheter placement, intubation, etc
• Assisting veterinary surgeons in surgical procedures.
• Monitoring anaesthetics & recovery of patients.
• Providing nursing care to hospitalised patients, including administration of medications, fluid therapy, exercise, physiotherapy, nutrition, etc.
• Sterilisation & maintenance of equipment and instruments.
• Wound care.
• Dental x-rays, scaling & polishing.
• Grooming – dematts, nails clips, etc
• Nursing clinics – 2nd vaccines, microchips, weight clinics, pre-neutering advice, etc.
• Dispense medications prescribed by Veterinary Surgeon.
• Perform diagnostic tasks & tests – taking blood samples, running samples
• Radiography – positioning, exposures, maintenance etc. A named dosimeter should be worn at all times whilst working within the diagnostic area.
• Maintaining patient records.
• Laundry.
• Stock control – ordering, maintaining batch numbers,
• Client advice & education – adhering to practice protocols.
• Respond to client queries within a timely & efficient manner.
• Maintaining the cleanliness of all areas of the practice.
• Maintain health & safety within the practice, including yourself, other staff members, members of the public and patients.

General description of veterinary nursing role (cont)

• Support student veterinary nurses and work experience pupils undertaking placements.
• If required, you will carry out Clinical Coach duties & training.
• Ability to contribute as part of the team, helping with various tasks as required.


Key Skills Required for a Veterinary Nurse
As a veterinary nurse, the key skills we expect are:
 Demonstrate ability to ensure delivery of exceptional patient care.
 Strong customer service orientation.
 Team Player.
 Excellent communication to internal and external customers (both written and verbal)
 Self-motivated and motivational to others.
 Positive and enthusiastic approach to tasks.
 Ability to work on own initiative.
 Excellent organisational and administrative skills with a strong attention to detail.
 Ability to record and document clear accurate information.
 Ability to use tact and discretion when dealing with difficult situations.
 Ability to effectively balance study and work.
 Mobility to all Westport branches.

As a Registered Veterinary Nurse, you are expected register with the RCVS and to maintain your CPD hours. Westport Veterinary Clinic will provide you with a budget to facilitate & encourage your continued learning within the veterinary field.

We do not expect you to carry out any duties in which you have not been fully trained or feel uncomfortable carrying out. You will not use any equipment you have not been trained to use.

Whilst you may be required to discuss veterinary care of patients, you are not expected to, or legally allowed to diagnose conditions or prescribe medications.
Benefits
Employee Assistance Programme
Unlimited CPD
Staff discount on veterinary treatment
Enhanced maternity pay
Enhanced sick pay
---
About you
Experience required
Any experience considered
Specific experience, knowledge and competencies
Membership of RCVS is essential, someone with a willingness and a passion for to learn is also essential, as we actively encourage lifelong learning.
---
About us
Workplace overview
Stuart originally came to Westport Vets, Linlithgow in 2011, as an assistant veterinary surgeon, and quickly made partner, after the original owner sadly passed away. In 2018, WPVC acquired two additional branches, in South Queensferry & Edinburgh, after the owner retired. In 2020, Stuart accomplished his dream by buying out his old partner, who was also retiring, and became sole owner to Westport Veterinary Clinic.

Stuart's aim at WPVC is to make the workplace as enjoyable as possible and to achieve this, he has invested heavily both in the team and the equipment. With our team, we ensure their health and wellbeing is looked after by regular in practice events and a healthy social life. All the branches, including the tiny one in Edinburgh, have a fantastic range of equipment to help the team carry out their daily job well.
Stuart's aim is to keep as much of the veterinary work in-house and refer as little as possible, which allows the team to build and develop their skillset and allows our clients to spend their money wisely, rather than referral fees.

The whole team is valued and encouraged to pursue their interests - whatever they may be. Lifelong learning is an integral part of the WPVC ethos and is strongly supported both morally and financially!

As we have an amazing team, and have trained many of our own nurses, we have been fortunate to grow without the need to actively advertise very often. Whether we are advertising or not, if you like what you see please just get in touch. We are always happy to meet up, show you around and discuss opportunities.
Location
Awards and accreditations
ISFM
Cat Friendly Clinic - Silver Award
Disability Confident
Disability Confident Employer - Level 1
---
Apply for this role
Please send your CV and covering letter to:
Fiona Leathers - careers@westportvets.com - 01313313451