by Laura Millross, Head of Kite Veterinary
The Kite Program
Created 605 days ago
MMI Kite App - Microlearning to Support Veterinary Wellbeing
The last two years have been a struggle for many working in the veterinary profession, which at times has seemed insurmountable.  Staff shortages are at an all-time high, heightening the risk of burnout and compassion fatigue of those that remain on the front line.
Now more than ever, the importance of finding time to dedicate to our own wellness has never been so great.  As the saying goes, "You cannot pour from an empty cup", but numb to any other way, so many of us do.
This leaves us with a problem.  How can we stop and prioritise our wellbeing when time is short, patient lists are long and, well, a glass of wine often seems like the easier option?!  Well, friends, there is a way.
In this article, we'll look at wellbeing tips for the time-poor and tell you how you can get your hands on a new wellbeing resource available to all UK veterinary professionals – completely free of charge!
What is microlearning?
As the name suggests, microlearning delivers content in bite-sized pieces.  It has been scientifically proven to reduce cognitive overload and increase knowledge retention and, best of all, these benefits can be gained from as little as 5 minutes a day.  Microlearning facilitates self-directed lifelong learning using short activities that are easily integrated into everyday activities (Buchem, Hamelmann 2010).
Learning is stressful and anxiety-provoking, particularly in the veterinary profession when it is often met with information overload.  We are used to learning in a traditional manner – involving hours of reading, honing practical skills, and delving deep into a subject's evidence base right from the start.  Then the more we learn, the more we realise we don't know.  Sometimes, feeling that we do not know 'enough' risks exacerbating a natural tendency to go too far down the rabbit hole.
To add to this, nowadays, learning has become incredibly complex.  Information is everywhere, and we have unlimited access to thousands of (often contradictory) resources, leaving us feeling overwhelmed.
Your wellbeing shouldn't feel like something else to add to your to-do list, and it certainly shouldn't be causing you more stress.  Getting stressed out about learning how to cope with stress and improve wellbeing really renders the whole thing pointless!
Instead of diving straight into the deep end and feeling immediately overwhelmed, learning for 5 minutes a day, you are much more likely to:
Break down overwhelm and procrastination – both barriers to getting started
Remain more engaged and motivated to learn with small nudges every day
Reduce stress and anxiety
Create a daily self-care habit
Remember more information that builds your skillset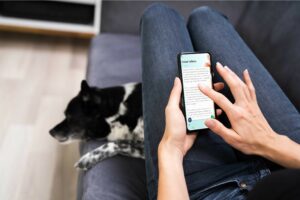 Applying microlearning to wellbeing – welcome to the MMI Kite App
In response to the challenges faced by the profession, and with the determination to support everyone working within it, the team at The Mind Matters Initiative (MMI) have collaborated with The Kite Program, a unique wellbeing microlearning platform, to provide you with a valuable wellbeing resource.
MMI Kite App contains valuable information and activities on topics such as compassion fatigue, conflict resolution, personal values, wellbeing in practice, managing stress and anxiety, and more.  New content is added regularly, so there will always be something new to explore.
Tailored to the needs of the UK veterinary profession, MMI's Kite App allows you to personalise your learning to focus on your specific needs.  Content is curated by wellbeing experts and veterinary professionals who understand your challenges.  Select the content that is most relevant to you, set aside time to engage in the material as your schedule allows, and learn at your own pace.
To get started, and embrace the MMI Kite App's microlearning focus, simply schedule 5-10 minutes daily to set aside towards your personal development.
Top tips on how to get the most out of the app
Set a daily 'Kite Time' – this could be in your own time or the first five mins of your shift if work allows.
Select a Kite to work through monthly as a team and encourage conversation around the topic
Make MMI Kite a feature of every staff meeting where everyone shares a takeaway they have learned so far.
Have a Kite Journal for storing your reflections and notes from activities
Have a 'wellbeing champion' in place at your clinic, someone passionate about team wellbeing and may have extra training in the space, and who can be responsible for implementing activities and taking feedback from the team.
The Kite App aims to build your wellbeing toolbox so that you are better prepared when things get tough.  It is not a clinical nor a mental health resource, but there are easily accessible crisis resource links within the app should you need them.  Having quick and easy access to these resources, which help save lives, is just one reason all veterinary professionals should have the app on their mobile phones.
MMI Kite App isn't intrusive, demanding, or gamified.  It is a supportive resource for you, designed to be there when you need it.
MMI fully funds the app for anyone in a client-facing role wishing to use it – vets, nurses, receptionists, students and support staff – there is no charge to access the content.  New content is being added every month, so there's always something new to work through when you want to.
The great Lao Tzu is often quoted, "a journey of a thousand miles begins with a single step."
At times it may seem like the journey to wellness that we must take as a profession is a thousand miles long, but we can all begin it today by taking that first step.
Get the MMI Kite App today

Access the MMI Kite App here.  Register your details, and your login and information with more information on how to get started will be sent out to you directly by the MMI team.