by Olly King
Meraki HQ, Totnes, UK
Created 229 days ago
Meraki Case Study: What Veterinary Recruitment Crisis?
After launching in January 2022 Greenbay Vets were the first to sign up to our pioneering 'always on', employer branding recruitment platform. A year on, I caught up with vet and owner of Greenbay Vets Laura Mather to listen to how things are going. Still fully staffed and recently back from a three-week family Christmas holiday in Australia (Figure 1), Laura shared with me her innovator early adopter experiences in doing recruitment better.
Tell the readers about Greenbay Vets
Having just successfully recruited, I am delighted to say we are now a six-vet small animal practice with two sites in Torquay and Paignton, South Devon. Passionately independent, my husband John and I bought the business in 2014, and proudly still have 3 of the original 8 team working with us.
"Having a platform where independent practices can get noticed is much needed."
Figure 1: Laura and John enjoying Christmas in Western Australia.
What was your motivation for joining Meraki?
I think the main motivation was a sense that we needed to be preparing to recruit well in advance of needing to. When we joined Meraki, we weren't recruiting, but I could see from social media the recruitment market was challenging. I felt very strongly that we needed an 'always recruiting' mindset, even if we weren't advertising. I wanted to get us out there and make it easier for people to know that we exist so that they could get in touch directly, irrespective of our recruitment status.
How were you doing that before Meraki?
We did have a 'Work With Us' page on our website, which is better now, but essentially is there to link to our Meraki profile. There's only so much I want to put on our client website, the rest is on Meraki. I see Meraki as our mini-careers website for prospective employees and students to get them through the door. It shows people what it's like to work for us and that we are a good place to work. Word of mouth has worked well in the past to nudge nurses to approach us, but I believe Meraki will do this so much better for vets and nurses, as well as attract decent students.
What led to your recent recruitment campaign?
When John and I took on the business we made the conscious decision to be relatively overstaffed. We did not want to be on the full-time rota, so that we had time to do the training, clinical meetings and our leadership responsibilities properly, and to grow the surgical caseload, John is an RCVS AP in surgery. Like many practices our client base has grown in recent years, and John had therefore been back on the rota more and we wanted to get that time back.
So this was a team expansion rather than a replacement?
Absolutely. We never want to have to rely on short-term locums or get into the situation where the rest of the team are overloaded. We want our people to work at a sustainable level and to have the time to do the job well, always. Particularly when someone is off on holiday or if unexpected absences occur, like one of our vets that has just been called for jury service. We also want people to be able to take holiday when they want, including ourselves!
"With an employee net promoter score of 100% and a Meraki Employee Experience Rating of 4.39/5, this gave us independent evidence and social proof that we are a nice place to work."
What recruitment expectations did you have?
I was hopeful because I think we are a good place to work. And in looking for an additional vet before we absolutely needed one, we could be flexible in being open to part-time or full-time and less experienced or more experienced.
Figure 2 – Video is an authentic show, not tell approach that puts your team at the heart of your recruitment strategy.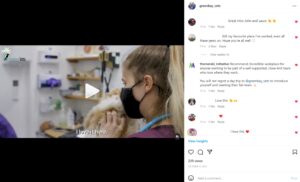 What was your recruitment strategy?
Working closely with Meraki before the platform launched, our recruitment campaign was in effect sixteen-months in the planning.
In the Summer of 2021 Meraki produced our wonderful 'work with us' practice video, that now heads our profile, and a cut-down version for social media (Figure 2). Being filmed was out of our comfort zone, but having team members volunteer and speak so positively about the practice was great.
Since sharing it we have received amazing comments. Clients, industry reps, a previous employee and onlookers have posted things like 'you look a lovely place to work', 'great video', 'still my favourite place I've worked, even all these years on' and 'if only you were in Cornwall'.
We also got our people to also complete Meraki's Employee Experience Survey in June 2022, receiving a really insightful and useful report back. With an employee net promoter score of 100% and a Meraki Employee Experience Rating of 4.39/5, this gave us independent evidence and social proof that we are a nice place to work.
Once you subscribe to Meraki as a business, you can post unlimited job adverts from within your dashboard, it is really simple. We then shared our job advert on Meraki and used three Facebook groups: Independent Practice Vet Jobs UK, VetWings Jobs and Veterinary Employment and Locum Network UK, to get eyes on our profile.
We re-posted weekly on these channels using three rotating posts, sometimes sharing the short video edit or a testimonial from Jemma, one of our current vets, or sharing an image of our Meraki Employee Experience Rating (Figure 3). We also included a link to our Meraki profile in a paid advert on vetsurgeon.org.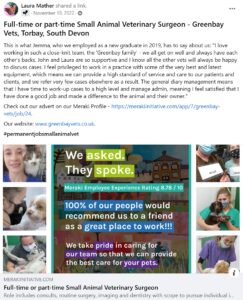 Figure 3: Sharing your job advert across social media platform is an easy way to get in front of your perfect match.
How did your recruitment campaign go?
Even better than I expected. We had two applicants in the first month (October 2022) and three in the second month, including two overseas applications from New Zealand and Italy.
All applicants had good experience and sent in very considered applications. They had all clearly seen our Meraki profile, referencing information within it and the video. I felt like they had done their research and thought 'yes, this is a good place for me'. So 100% Meraki nudged those people to apply.
All applicants would also have potentially been a good fit. I believe the fact that we were able to get across what our practice is about helped motivate the right people to apply. The applicant from New Zealand even shared how impressed they were with our recruitment campaign.
"The page you had with the Meraki Initiative was fantastic. I've never seen a job advert quite like it, and after reading through the Meraki website I felt like I knew you all already. The videos were great for me to get an idea of the people that make up your team, and I was able to appreciate your clinic's goals and values."
Feedback from veterinary applicant from New Zealand shared with Greenbay Vets
The applicant that we employed had initially seen our job advert on vetsurgeon.org and the other four applications came from people seeing our post on Facebook, all directly linked to Meraki. The applicant accepted the role immediately, allowing us to really enjoy our holiday to Australia (Figure 1), and they started work with us today (January 9th).
What would you do differently next time you recruit?
Nothing really.
What do you like best about Meraki?
Having a platform where independent practices can get noticed is much needed. It won't matter to everyone, but all three of our recent UK applicants were specifically wanting to join an independent practice.
I like being able to go into detail into what makes us different for people who want to learn more. People want to know what you are like to work with before they apply. Sharing a thumbnail link to our Meraki profile on social media is great for saying the basics, where the job is, what sort of job it is and something to grab their attention. And then if it's on their radar, they can click through directly to our profile. You can't say everything in an advert or Facebook post, and if you do people don't read it.
I love the blog posting functionality, it's fab for saying what we are up to and bringing our personality and practice culture to life. These can also be shared on social media. I try to post a blog at least once a month, I know I should share more, so am going to get the team to flex their writing skills.
Having invested the time in completing our profile, it is not difficult to maintain or tweak. Ultimately, I am glad I put the effort in. Our first recruitment experience has certainly proven Meraki to be a valuable tool in connecting the right people with the right practice.
What recruitment top tips would you share with other employers?
Firstly, recruitment starts with retention. You can't stop people leaving, but you can do a lot to ensure your existing team are happy. It is vital to look after your team and seek their feedback.
Secondly, be proactive and start planning. Recruitment does cost money and is very strategic, so prioritise and invest the necessary resources in doing the right things.
Get in touch to start building your employer brand with Meraki and take charge of your recruitment.
Banner image: Making a powerful first impression, Greenbay Vets Meraki workplace profile landing page.
---
Enjoyed this article? To receive articles like this subscribe to our newletter on our landing page.